Life ain't perfect. It's full of those disturbing memories and scenes wherein you pray hard that you would somehow disappear in thin air. Or that the earth would swallow you inside the crust or mantle or preferably the core (heat not being an issue!). Or better still if you could just rewind and start afresh! *sigh*. Life would have been so different if any of these miracles would have been possible. We would have been saved from many an embarrassing, awkward and cringe-worthy moments.
Life would have been a teensy weensy bit puuurrrfect. Perfect:Yes but fun nope! It would have been just like that perfect too-good-to-be-true guy, who remembers all the anniversaries and sends red roses but alas is no fun because of the fun-bad-boy-action missing. Similarly without any incidents whose memories turn us pink/red/purple, life would have been perfunctory, monotonous and dull. If I sit and pen down my awkward moments, I'd be a writer in no time. Yeah it's a cliché but I can write a book over 'em.
Not long ago I went to this shop just a few steps away from my home. My attire is what needs a special and detailed mention here. I was wearing a night-suit (even though it was day-time) pyjamas of which have these ridiculous frills which I can't even begin to explain. My mom had got it for me I-don't-know-why; because she knows it very well that I am over 12 now. Moving on, I had also donned this sweater atleast two sizes bigger than mine full of Maggie noodle stains (I have this thing of stuffing as many noodles as possible in my mouth , half of them end up falling on my clothes. This activity though is strictly restricted to the premises of my home and is done in seclusion). My hair (uncombed) resembled a bird nest, pretending to be a bun. Now I really care about vanity but to change my clothes in the very cold weather that too just for going a few steps away from home seemed a totally worthless effort. So I decided to go the way I was; in mess! Also my too thick socks required that I wear my mom's shoes rather than my own. So I took off in mom's big shoes dragging my feet as my heels keep poking out of them. I didn't make a pretty picture.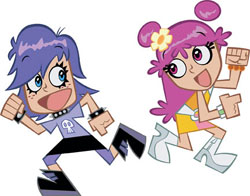 I had no idea that I have a surprise waiting at the shop. Who do I spot there? None other than my eye-candy. The guy I find reallllllyyy cute. I am like OMG. What have I done? Damn. I am all heebie jeebies. I quickly ask for my stuff and hastily try to RUN away…! But alas my shoe (err mom's) refused to oblige, it chose that precise moment to fly off from my foot onto the road. And an "ouch" slipped out from my mouth. Puuurrrfect. Last thing that I wanted was to draw attention to myself and my drab outfit. Somehow I managed to hop and fit that shoe onto my foot and drag myself away from his view. Even in the cold weather I broke into a sweat. And I am still not fully recovered from the trauma. Now even to go out on the balcony I make sure I am looking my best. I take no chances. But sadly, the only people you meet when you look good are those lascivious men in mid-life crisis and the ogling rickshaw walas. But life ain't fair, is it?
*long sigh*
P.S Do share you awkward moments (preferable something worse than mine) just to make me feel better, you know!
PP.S. While writing this post I remembered so many funny awkward moments which I wanted to add in this post, but due to the length issues I couldn't. So I ll write about others in the subsequent upcoming parts. Exciting? I know, right!!